I am going to continue on the same theme that we started the year out on – that God is with us, including during difficult times.
"Through the Fire" was released by the band Day of Fire on their self-titled album in 2004 and was a very popular song on the radio at that time.
It not only has a great rhythm, a cool piano-driven intro, and awesome guitars, it also has very powerful lyrics. It is God speaking, promising to walk with us and see us through flood, fire, and storms.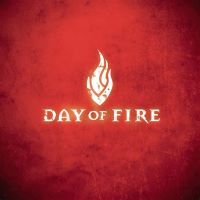 Though Day of Fire does not appear to list the Scriptures on which the lyrics are based (like Disciple does), the lyrics are clearly based on Isaiah 43:1-3a (one of my favorite Scriptures):
But now, thus says the Lord, who created you, O Jacob, And He who formed you, O Israel: "Fear not, for I have redeemed you; I have called you by your name; You are Mine.

When you pass through the waters, I will be with you; And through the rivers, they shall not overflow you. When you walk through the fire, you shall not be burned, Nor shall the flame scorch you.

For I am the Lord your God, The Holy One of Israel, your Savior… (New King James Version)
We can see evidence of God's faithfulness to protect His people in such situations throughout the Scriptures:
Shadrach, Meshach and Abednego (the fiery furnace in Daniel 3)

Noah (the Great Flood in Genesis 6:1-9:17)

Peter (walking to Jesus on the water through a storm in Matthew 14:22-33 – which is also a foundational Scripture of the song)
Isaiah 43:2 in the New Living Translation is also really encouraging, as it addresses the metaphorical floods/fires of life:
"When you go through deep waters, I will be with you. When you go through rivers of difficulty, you will not drown. When you walk through the fire of oppression, you will not be burned up; the flames will not consume you."
It is truly comforting to know that we can trust God in every circumstance, no matter how devastating or impossible things may appear.
Another verse that comes to mind during the bridge of "Through the Fire" is Joshua 1:5c:
"I [the LORD] will never leave you nor forsake you" (New International Version [NIV]).
This same promise is repeated in Hebrews 13:5b, reassuring us that Jesus (and God the Father) are "the same yesterday, today, and forever" (Hebrews 13:8, NIV).
So when the storms and trials of life rise up against you, have faith in God!
He has promised to see you through them if you place your trust in Him.
---
Do you have a story about God's deliverance in your life? I would like to hear it!
Or if you currently need deliverance, I would like to pray for you.
("Through the Fire" can be downloaded from Christianbook.com, or the entire Day of Fire album can be downloaded from ChristianBook.com as well.)
---
If you want to be notified when I post new content, subscribe here.
Signing off until next week –
Rocking for Jesus with you!
Amanda Renée