February has begun – it is officially Valentine's season.
If there is an Ebenezer Scrooge of Valentine's Day, I might be distantly related.
Not because I hate love or Valentine's Day itself, mind you – I have some pretty Valentine's Day decorations, and I love hearts, chocolate, candy, cute teddy bears, and genuine efforts made by couples to make their spouses feel loved and special. I think all of those things are great.
What I don't like is the Hallmark commercialization of the holiday, and the high, often unrealistic expectations that get placed on it.
And I find it particularly annoying when people randomly ask complete strangers in stores, restaurants, etc. if their spouse is doing anything special for them, or when guys use it as an excuse to fish for whether or not a girl is single. (Hit the road, Jack!)
Seriously? What if the person being questioned is widowed, or going through a tragic divorce? Being curious and making conversation is one thing, but being nosy, rude, and insensitive is another thing altogether.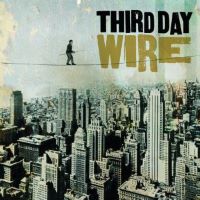 All right, enough of the "Bah! Humbug!"
Vent session over, I want to share a song that I feel really captures the true purpose of Valentine's Day.
" 'Til the Day I Die" is the first song on Third Day's album Wire, which was released in 2004. (I must be on an early 2000s kick right now.)
It is an awesome song – I'm pretty sure that I just played it on repeat for a while when I first got the album. Hmm, I think I use that word "awesome" every week. Granted, it's always true, but I'll try to expand my descriptions.
So what would be another good adjective to describe the song? (Besides "amazing" and "powerful," which also fit but are getting overused as well.)
How about "driven"? I would say the song is driven in more ways than one.
First, it is very guitar-driven, and I absolutely love the guitar riffs!
Second, the singer is driven not only by his love for his wife, but also by his desire to let her know just how much he loves her.
He reconfirms that when he promised her "forever," it was not an empty promise – he really meant it.
He boldly declares that no one else could ever compete with his love for her.
And in the bridge, he acknowledges that the term "forever" is nearly unfathomable, so to put it into comprehensible terms, he is committing to give her all he has – his heart, his love, his life.
I find it encouraging to hear a song expressing such a deep, unwavering commitment. And the rock music really sets the tone for it and drives the message home.
Technically, the song could be covered by a female singer singing to her husband as well – but since I like the original so much, a cover would have to be well-done by the right artist in order for me to approve of it.
It truly is an outstanding song. It is not your typical cutesy love song (not that those are bad) – like I said, it is driven.
I dare say even non-Valentine's Day fans will love it.
---
Have you heard "'Til the Day I Die" by Third Day? Let me know what you think of it!
("'Til the Day I Die" can be downloaded from Christianbook.com, or the entire Wire album can be downloaded from ChristianBook.com as well.)
---
If you want to be notified when I post new content, subscribe here.
Signing off until next week –
Rocking for Jesus with you!
Amanda Renée