During the month of February as we move towards Valentine's Day, love is understandably a popular topic.
But what is true love? What does it look like? How does it behave?
Petra strives to give some answers to these questions in their song "Love."
"Love" was released in 1990 on Petra's album Beyond Belief. It is a beautiful ballad that – in addition to having a meaningful message – showcases the fact that the lead singer John Schlitt is fully capable of adapting his vocal style to fit the tone of a song: instead of his typical rocky rasp, his tone is smooth and clear for this song.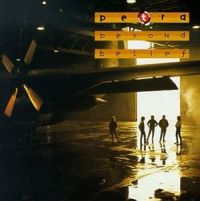 The song is based on 1 Corinthians 13, most obviously on verses 4–8a:
4Love is patient, love is kind. It does not envy, it does not boast, it is not proud. 5It does not dishonor others, it is not self-seeking, it is not easily angered, it keeps no record of wrongs. 6Love does not rejoice in evil but rejoices with the truth. 7It always protects, always trusts, always hopes, always perseveres.

8Love never fails. (New International Version)
However, the song emphasizes other Biblically-based aspects of love as well:
Love isn't only about pleasant, "fuzzy" feelings and always having a smile on your face – it also "knows when to let go" and "when to say no."

Love is revealed in God sending His Son, Jesus, as a sacrifice for our sins.

Love is God's forgiveness towards us.

"Love grows in the light of the Son" – it develops as we get to know Jesus better.

Love is how we reveal Who Jesus is to the world.

Love is indestructible.
The song also addresses how difficult love can be in these times of growing hatred – something we can see even more evidence of now, more than three decades after the song was released. It acknowledges that even in trying circumstances, God's love gives us "strength to rise above."
Finally, the song asks for God's help in knowing (understanding) the power of His love.
In a world that has so many distorted views of love, let us strive to be a living example of true love – God's love.
---
Have you heard Petra's song "Love"? What do you think about it? Let me know!
---
("Love" can be downloaded at ChristianBook.com.)
---
If you want to be notified when I post new content, subscribe here.
Signing off until next week –
Rocking for Jesus with you!
Amanda Renée