Some of my earliest music memories are of Petra's music, namely the album Petrafied: The Best of Petra.
This was the very first Petra album my family owned and it was played long and often, so even just reading the track list brings back good memories to me.
(Funny story – a good friend of mine had heard Petra's "The Coloring Song" on the radio and liked it so much that she bought this album. For anyone who doesn't know, "The Coloring Song" is one of Petra's calm, gentle songs.
She played the album for the first time for company, not realizing that the song right after "The Coloring Song" – "Praise Ye the Lord" – is, well, definitely more rock-sounding!
She was a bit shocked and wasn't quite sure if her guests would approve of that song's particular style, but they didn't run "petrafied" out of the house, so I guess it turned out okay!)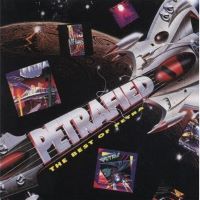 The album has a lot of great songs on it in addition to "The Coloring Song" and "Praise Ye the Lord"; "Hollow Eyes," "Not of This World," "Whole World," and "This Means War" are a few of my personal favorites. I will probably eventually dedicate individual posts to several (if not all!) of those songs.
I like the fact that Petrafied: The Best of Petra showcases songs from both of the lead singers (Greg Volz and John Schlitt), though I am surprised that only two of John's songs made it onto the album, considering that John had been lead singer for about five years at the time.
Presumably, the record label probably used more of John's songs in other compilation albums.
(On that topic, Josh Renaud from PetraRocksMyWorld.com has a very interesting article here about how some record labels try to take advantage of a band's success by creating an overabundance of "Greatest Hits" albums. It is an enlightening read.)
That being said, I am really glad that my family bought this album, because it introduced me to one of my all-time favorite bands.
I still enjoy the playlist!
---
If you want to be notified when I post new content, subscribe here.
Signing off until next week –
Rocking for Jesus with you!
Amanda Renée