About the Song
I hope you had a Happy Resurrection Day/Easter!
Today's song review is about Jesus' victory.
Petra released "He Came, He Saw, He Conquered" on their This Means War! album in 1987. The song is made up of a very energetic mix of guitars, drums, and keyboards (not to mention great vocals) and is a concise recount of Jesus' battle assignment, battle, and victory.
It begins with Jesus choosing to leave His throne in order to destroy the devil's hold on humanity – a mission that was impossible for anyone besides Him.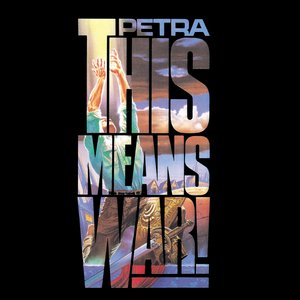 The song also echoes the core message of Michael W.Smith's "Secret Ambition" – no one understood that Jesus' death would seal His victory. Satan and all of Jesus' earthly enemies thought that they had won when they crucified Jesus.
But, as the chorus declares, He rose! He rose, conquered not only the devil but also death and hell, and He is alive and well forevermore:
"I [Jesus] am the Living One; I was dead, and now look, I am alive for ever and ever! And I hold the keys of death and Hades."

(Revelation 1:18, New International Version)
The second verse touches on how the disciples hid behind locked doors immediately following Jesus' death, fearing the same fate. But locked doors could not stop the living Savior from revealing Himself to His followers:
19That Sunday evening the disciples were meeting behind locked doors because they were afraid of the Jewish leaders. Suddenly, Jesus was standing there among them! "Peace be with you," he said. 20As he spoke, he showed them the wounds in his hands and his side. They were filled with joy when they saw the Lord!

(John 20:19-20, New Living Translation [NLT])
Why did Jesus come to earth to die? Even knowing that He would rise again, why did He choose to suffer horrifically and die?
He did it for us – for you and for me.
On our own, we are doomed to spiritual death because of the sinful nature we inherited from Adam and Eve:
When Adam sinned, sin entered the world. Adam's sin brought death, so death spread to everyone, for everyone sinned.

(Romans 5:12, NLT)
But, as the song states, "[Jesus] heard the SOS" and came to conquer satan once and for all.
John 3:16 is such a common-quoted verse that it can be easy to lose focus on what it is saying, but let's take a moment to really think about it:
For God so loved the world, that he gave his only Son, that whoever believes in him should not perish but have eternal life.

(English Standard Version)
Jesus won the victory over the devil for us. Now it is up to us to choose which side we want to be on – living our own way (ultimately resulting in our defeat and spiritual death), or surrendering our lives to Jesus– believing in Him – and walking with Him in the abundant life and victory He won for us.
As Moses advised in Deuteronomy 30:19, let us choose life.
---
Contact
What do you think of the song "He Came, He Saw, He Conquered"? I'd love to know!
Links
(US Purchases)
Downloads and/or physical copies may also be available from your favorite online music store, at your local bookstore or thrift shop, or through your favorite online marketplace.
---
Closing Note
If you want to be notified when I post new content, subscribe here.
Signing off until next week –
Rocking for Jesus with you!
Amanda Renée