A Secret Calling
Resurrection Sunday (A.K.A. Easter Sunday) will be here very shortly, making it the perfect time to review one of my favorite Michael W. Smith songs.
"Secret Ambition" was released in 1988 on Smith's i 2 (EYE) album. Like a few of my other favorite songs in the music world, I feel it builds perfectly from an almost hushed, mysterious tone to rocking drums, guitars, and guitar solos – and then it winds back down again.
The effect sets the perfect tone for the song's message, which is also well-portrayed in the official music video, which I will link below. (The video is powerful and can definitely move one to tears, so I recommend keeping a tissue handy as you watch it.)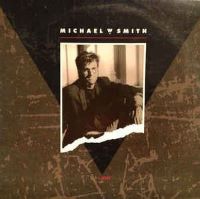 This is a song that my family has played loud and on repeat. Even though it technically isn't a worship song, I could definitely worship the Lord through it, thanking Him for sending His Son as a sacrifice for my sins and for manifesting His healing and restoration power through Jesus as well.
"Secret Ambition" discusses the ministry of Jesus:
Teaching the Truth of God's Word to the masses

Healing the sick

Exposing the corruption of the religious leaders and their enforcement of man-made (rather than God-ordained) rules

Exemplifying His passion for keeping His Father's house holy (cleansing the Temple and throwing out the money-changers)
The song also discusses the various responses to Jesus' teaching and ministry:
Jealousy by the religious leaders, who resented the attention given Him by the people and who took offense at His calling out their shortcomings and corruption

Rejection by some, who considered Him a radical

Acceptance by others, who praised God for His works done through Jesus
Finally, the song discusses Jesus' true calling and purpose for coming to earth:
To give His life as a sacrifice for our sins

God made him who had no sin to be sin for us, so that in him we might become the righteousness of God.

(2 Corinthians 5:21, New International Version [NIV])
The core message of the song is that no one really knew what Jesus' true purpose on earth was until after He had risen from the dead. Not that Jesus hadn't tried to tell them multiple times – even speaking very plainly to His disciples:
21From that time Jesus began to show his disciples that he must go to Jerusalem and suffer many things from the elders and chief priests and scribes, and be killed, and on the third day be raised. 22And Peter took him aside and began to rebuke him, saying, "Far be it from you, Lord! This shall never happen to you." 23But he turned and said to Peter, "Get behind me, Satan! You are a hindrance to me. For you are not setting your mind on the things of God, but on the things of man."

(Matthew 16:21-23, English Standard Version [ESV])
In a way, it's almost like Jesus was a secret agent with a top-secret mission:
7But we impart a secret and hidden wisdom of God, which God decreed before the ages for our glory. 8None of the rulers of this age understood this, for if they had, they would not have crucified the Lord of glory.

(1 Corinthians 2:7-8, ESV)
Sounds a bit like Mission Impossible, doesn't it? Except for a few major differences, of course:
Jesus used truth, never deception, to accomplish His mission. (The same can't be said for typical Mission Impossible operations.) He did, however, hide the truth in plain sight through parables, so that it would be revealed only to those who actively sought to know and understand the truth (Matthew 13:10-17). Definitely sounds like Jesus' secret mission came with a code language, don't you think?

Jesus' mission required Him to give the ultimate sacrifice – His life – and to endure brutal suffering for our salvation, healing, and deliverance (Isaiah 53).

The story did not end with Jesus' death – He was raised back to life through the power of God (Romans 6:4). "What is impossible with man is possible with God" (Luke 18:27, NIV).
A Call to Remembrance
As we draw closer to Resurrection Sunday, let's take some time to reflect on a couple of things:
Jesus' ministry before His death and resurrection (a ministry which He passed on to His followers – of Whom we also are – in Matthew 28:18-20 and Mark 16:15-18).

Jesus' provision for us through His death and resurrection: Salvation from sin, healing from sickness and disease, and deliverance from bondage and oppression (Isaiah 53:4-6, 1 Peter 2:24, 1 John 3:8b).
Let us thank Him for His love and for His sacrifice, and let us choose to receive the free gifts for which He paid so high a price.
---
Contact
Do you like the song "Secret Ambition"? Do you have anything to share about how Jesus' ministry (past and present) affects us today? Let me know!
Links: Purchases and Music Video
(US Purchases)
Downloads and/or physical copies may also be available from your favorite online music store, at your local bookstore or thrift shop, or through your favorite online marketplace.
(Music Video)
"Secret Ambition" Official Music Video: GodTube

(Please be forewarned – portions of the video depict the crucifixion; therefore both the thumbnail and the content do contain some gore. However, I believe it is important to be aware of how much Jesus suffered for us, and in all honesty, I believe that Jesus endured even more brutal treatment than is depicted in the video.)
---
Closing Note
If you want to be notified when I post new content, subscribe here.
Signing off until next week –
Rocking for Jesus with you!
Amanda Renée