Who Is Josh Brown?
Last week, I reviewed an awesome song by Day of Fire.
Today, I will be turning the spotlight on Day of Fire's founder and lead singer, Josh Brown.
Josh Brown grew up in a broken home, and in his mid-teens he turned to drugs, partying and immorality.
He had said a salvation prayer when he was eight or nine years old, but since he really had no concept of what being a Christian was, he did not actually develop a relationship with Jesus at that time. By the time he reached his early twenties, Brown had come to perceive the Gospel message as "just a really good story." 5
In 1993, he started a heavy metal band that eventually took the name of Full Devil Jacket. During one of the band's tours in 2000, Brown nearly died of a heroin overdose.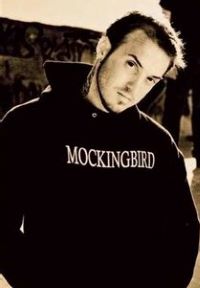 A Turning Point
After rehab, Brown continued to struggle with the various addictions in his life. One day, while watching a preacher on television, he chose to give his life back over to Jesus.
At this point, he left Full Devil Jacket and spent a few years seeking God and what His will was. Eventually, he felt that God was leading him to begin singing again, and he started the Christian rock band Day of Fire.
Day of Fire's Albums
I own all of the tracks for Day of Fire's self-titled debut album (2004), and I enjoy the whole album. The songs' themes include hope, taking a firm stand, running to God, and God reaching out to us. Sometimes the tone is prayerful; other times it is confrontational. But each song has a solid purpose that adds to the message of the album.
However, I do not own very many of the songs from Day of Fire's next two albums, Cut and Move (2006) and Losing All (2010). While there are a few good songs on them, I found as I was acquiring them that many of them had a very dark, rather depressing feel to them. I quit downloading them.
To be fair, Brown has stated more than once that he is very honest [transparent] in his music. According to quotes from Brown on JesusFreakHideout.com's lyrics pages, some of those songs were inspired by people he had interacted with, and some he had written very early in Day of Fire's career.
So it is possible that these darker songs were an outpouring of a time in Brown's life when he was struggling. It is also possible that some of these songs speak to some of his listeners that are going through some of the same things that are referenced or implied. Those songs did not bless me, however; hence the reason I chose to stick with enjoying the original album.
A (Re)Turning Point?
In 2010, Full Devil Jacket did a reunion tour as a fundraiser for their former guitarist, who was battling cancer. Normally I have some concerns when an artist that has become a Christian rejoins his pr her old secular band for a reunion tour, but in this case, I could understand why. Sadly, the guitarist passed away in 2011.
In 2015, Full Devil Jacket announced that they were going to be releasing a new album – with Josh Brown very solidly back in the mix. Now this I did find to be very disturbing.
At first I thought that maybe this new version of the band would be a Christian band (though their name alone was causing me doubts). After looking into the matter, however, that does not appear to be the case.
Brown states in an interview that his faith is still reflected throughout his songs. It is true that there are some Biblical references in some of the songs. Unfortunately though, there appear to be more negative than positive elements in the album overall.
For one thing, the cover art, designed by Brown, is quite disturbing. I could understand why their old cover art (which may not necessarily have been designed by Brown) would be disturbing, but I am disappointed in Brown's current artwork. (I am only minimally aware of various symbolisms, but I know enough that some of those represented in both past and current artwork turn my stomach.)
For another thing, more than one song contains foul language. While it is true that no one is perfect, I personally am not comfortable with swearing (especially f-bombs) in a song by a professed Christian.
(Not that I've never thought of a few swear words in my weak moments…)
Getting to the Heart of the Matter
I bring up all of this not to condemn Brown, but to raise an awareness of our need to pray for him. He mentioned having an addictive personality and that he still struggles with various issues. He also mentioned that he was going through a divorce at the time that he rejoined his old band.
I think we all know from experience that being a Christian does not mean that we no longer face struggles or trials, but it does mean that we have God to help us through them – victoriously (Romans 8:37, Psalm 23:4, 1 Corinthians 5:57, 2 Corinthians 2:14).
As I have researched Brown's history, I have been saddened by his most recent decisions and actions. God has done so much for him and through him, and He has so much more potential for him.
I do not get the impression that Brown has rejected his faith, but it does appear that his faith has weakened. I do not know if he even realizes it.
One of my devotionals today mentioned that life is a constant upstream battle against the negative things in life. We cannot afford to stop paddling – if we do, we will drift backwards. There is no room for compromise. It almost seems as though Brown grew weary in his life battles and allowed himself to relax his guard.
Please join me in praying that God will rekindle His fire within Brown, and that Brown, in turn, can be a powerful testimony to his old [current] band members and lead them to Christ as well.
---
Prayer Focus
Josh Brown

The other members of both Day of Fire and Full Devil Jacket

The Edge, guitarist with U2 (Birthday: August 8, 1961)

Scott Stapp, lead singer with Creed (Birthday: August 8, 1973)
Please pray for these bands and individuals as God leads you.
(I also have a basic guideline here if you wish to refer to it.)
Station Support
In addition to praying for the weekly Prayer Focus, please pray for God to guide me and give me wisdom as I make decisions for the radio station and for the website. I really appreciate your prayer support!
If you feel that the Lord is leading you to support Rocking for Jesus financially as well, you can do so by clicking here or by clicking on the "Give" tab in the website menu.
---
Contact
Do you know of any other bands or artists that could use some prayer regarding their faith? Let me know!
---
Closing Note
If you want to be notified when I post new content, subscribe here.
Signing off until next week –
Rocking for Jesus with you!
Amanda Renée
Resources
(All sites were accessed on August 8, 2023.
I read the Wikipedia pages for Josh Brown, Day of Fire, and Full Devil Jacket but did not cite them here due to the fact that Wikipedia content changes constantly. I also did not cite Josh Brown's IMDb page, which was almost identical to Wikipedia's corresponding page.
Be forewarned that some of the recent interviews contain foul language.)