Background
As I mentioned when I started this blog in October of 2022, I have always wanted to have a radio station so that I could share the music I love with the world.
However, I realize that my station is not all about me.
I want my station to be a music ministry that blesses and positively impacts my listeners and my readers.
I also want to use it as a platform to pray for the various participants – both Christian and secular – in the music industry.
Therefore, I would like to start incorporating a new segment of the blog – the Prayer Focus of the week.
Segment Content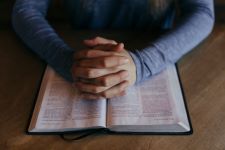 Every week, I will list one or more individuals, bands, or topics to pray for. If I have written up a song or album review for the week, obviously I will include the music artist or artists involved in that week's prayer focus. In addition, I may list any of the following for prayer as well:
Artists whose birthdays are recent or are coming up

Artists who are releasing new material or that have been mentioned in current events

Producers, photographers, record labels, etc.

The Christian music industry

The music industry as a whole

Etc.
When listing music artists, I will mention both Christian and secular artists, but I currently do not plan to specify which is which.
For the purposes of this segment, the Prayer Focus will simply be an opportunity to pray for God to work in all of the lives of those listed.
Prayer Structure
For the most part, I plan to leave it up to God to lead each of us individually in how to pray for each week's prayer focus.
If I have something specific in mind, I might list some brief prayer points or give a short prayer guide.
Typically, though, I will probably just list a few names and refer back to this post for some prayer ideas:
For those who are already Christians, we pray for God to bless them; to protect them from harm; to heal and deliver them; to prosper them; to strengthen and encourage them; to grant them wisdom, guidance, and discernment; to protect them from compromise and error; and to keep them on the right path.

The apostle Paul also has a powerful prayer guideline:

15Ever since I first heard of your strong faith in the Lord Jesus and your love for God's people everywhere, 16I have not stopped thanking God for you. I pray for you constantly, 17asking God, the glorious Father of our Lord Jesus Christ, to give you spiritual wisdom and insight so that you might grow in your knowledge of God. 18I pray that your hearts will be flooded with light so that you can understand the confident hope he has given to those he called—his holy people who are his rich and glorious inheritance.

19I also pray that you will understand the incredible greatness of God's power for us who believe him. This is the same mighty power 20that raised Christ from the dead and seated him in the place of honor at God's right hand in the heavenly realms. 21Now he is far above any ruler or authority or power or leader or anything else—not only in this world but also in the world to come. 22God has put all things under the authority of Christ and has made him head over all things for the benefit of the church. 23And the church is his body; it is made full and complete by Christ, who fills all things everywhere with himself.

(Ephesians 1:15–23, New Living Translation)

For those who do not yet know Jesus Christ as Savior, we pray for their salvation; for God to soften their hearts and convict them of their need for Jesus; for God to send laborers down their paths that will share the Truth with them (Matthew 9:35–38); for them to be drawn to God and for their eyes to be opened to the Truth (2 Corinthians 4:4); for their deliverance from bondage and ungodly desires; and for their healing: spiritually, physically, and emotionally.
These are just some guidelines and ideas, but as I said, allow God to lead you in how to pray each week.
Will you join me in these prayer focuses?
---
Prayer Focus
Michael Sweet, lead singer for Stryper (Birthday: July 4, 1963.)

Huey Lewis, lead singer for Huey Lewis and the News (Birthday: July 5, 1950.)

Ringo Starr, drummer for the Beatles (Birthday: July 7, 1940.)

Toby Keith (Birthday: July 8, 1961. Currently battling stomach cancer.)

Jessica Simpson (Birthday: July 10, 1980.)

Richie Sambora, guitarist with Bon Jovi (Birthday: July 11, 1959.)
---
Contact
What do you think of the new blog segment? Let me know!
Station Support
In addition to praying for the weekly Prayer Focus, please pray for God to guide me and give me wisdom as I make decisions for the radio station and for the website. I really appreciate your prayer support!
If you feel that the Lord is leading you to support Rocking for Jesus financially as well, you can do so by clicking here or by clicking on the "Give" tab in the website menu.
---
Closing Note
If you want to be notified when I post new content, subscribe here.
Signing off until next week –
Rocking for Jesus with you!
Amanda Renée
Credits
Prayer Photo by Patrick Fore on Unsplash