I remember when Jeremy Camp released his album Stay – it's hard for me to believe that it has been over 20 years since then. Has it truly been that long? Where does the time go?
I believe that Stay was one of the very first CDs that I owned. That's a rather special distinction, considering the fact that I now own hundreds of CDs!
Stay is an awesome album with a lot of great songs. A few (namely "Stay" and "Take My Life") are so awesome that when I heard them on the radio, I couldn't get enough of them – I just had to own the album.
A few others are excellent songs that were unfortunately very overplayed by my local radio station and I grew tired of them at the time. I think it's sad when a station ruins a good song, even if only temporarily.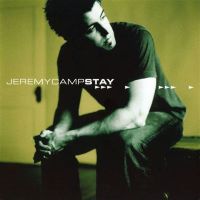 (Though perhaps it was just me and my style preferences that were the issue – the songs I didn't get tired of were the ones that had a harder rock sound. Are we surprised?)
Anyways, I fully recommend the album – all of it – and will eventually give several of the songs their own reviews.
Here is the song list for the album:
Understand
Right Here
Walk By Faith
Stay
All The Time
I Still Believe
One Day At A Time
Breaking My Fall
Nothing
I Know You're Calling
Take My Life
In Your Presence
Do you have any favorite songs from the album? Let me know!
(The album can be purchased from Jeremy Camp's official store, downloaded from ChristianBook.com, or found on several other sites linked from Jeremy Camp's website.)
---
If you want to be notified when I post new content, subscribe here.
Signing off until next week –
Rocking for Jesus with you!
Amanda Renée