Several years ago, I stumbled upon the band Degarmo and Key and found that I like a lot of their songs. "Dare 2B Different" from their album Heat It Up is one of my favorites.
This song is slow and serious, but beautiful – mostly synthesizer with light percussion, a few drums, and a single guitar appearance.
It has a long intro – the singing doesn't start until just after one and a half minutes in – but I feel that the intro helps set the mood for the song.
(And I particularly like effect of the whispered "dare" in the background leading the final chorus after the bridge.)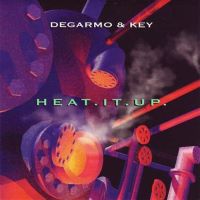 As Christians, we are often ridiculed and criticized for being "different" from the world. "Dare 2B Different" challenges us to stand strong in the face of ridicule and refuse to compromise. It also reminds us that when the opposition hurts, we can take comfort in knowing that Jesus was treated the same way.
In John 15:18, Jesus said to His disciples, "If the world hates you, know that it has hated me before it hated you" (English Standard Version [ESV]). He adds in verse 25b, "They hated me without a cause" (ESV). (Key phrase there – we need to make sure we don't give anyone a good reason to hate us, of course!)
Matthew 5:10-12 reminds us further that this type of persecution has been going on since Old Testament times as well:
God blesses those who are persecuted for doing right, for the Kingdom of Heaven is theirs. God blesses you when people mock you and persecute you and lie about you and say all sorts of evil things against you because you are my followers. Be happy about it! Be very glad! For a great reward awaits you in heaven. And remember, the ancient prophets were persecuted in the same way. (New Living Translation [NLT])
Another reason we can rejoice and be happy in the face of persecution is that we know that we are overcomers through Jesus Christ:
I [Jesus] have said these things to you, that in me you may have peace. In the world you will have tribulation. But take heart; I have overcome the world. (John 16:33, ESV)

[G]reater is he that is in you, than he [the spirit of antichrist] that is in the world. (1 John 4:4b, King James Version)
Remember, we should look different – that is how we make a difference in the world for Christ. We are to shine the light of Jesus through the way we live.
Does this mean to have a "holier-than-thou" attitude? By no means! Though it is certain that we will have different convictions than those who do not know Christ (and we should take care to respectfully refuse to compromise those convictions), there are many other differences that should be seen in our lives as well:
We have God's joy.

We have God's love.

We have God's peace.

We have God's strength.

We have God's healing.

We have God's deliverance.

We have God's protection.

We have God's provision.

We have God's wisdom.

We have God's encouragement and comfort.
And the list continues.
Sadly, some people will be offended by the light: "All who do evil hate the light and refuse to go near it for fear their sins will be exposed" (John 3:20, NLT).
But others will be drawn to the light of Jesus they see shining through us, and they will find in Jesus the Truth and freedom that they seek:
You are the light of the world. A city set on a hill cannot be hidden. Nor do people light a lamp and put it under a basket, but on a stand, and it gives light to all in the house. In the same way, let your light shine before others, so that they may see your good works and give glory to your Father who is in heaven. (Matthew 5:14-16, ESV)
So don't let those who are uncomfortable in the light cause you to hide your light; instead, pray for them to desire to come into the light, to Jesus.
Don't be afraid to be different.
Don't be intimidated by the haters.
Choose to make a difference.
Choose to live like Jesus.
I dare you.
---
Check out the song and let me know what you think of it!
---
If you want to be notified when I post new content, subscribe here.
Signing off until next week –
Rocking for Jesus with you!
Amanda Renée