Have you ever wanted to be a rock star? Or someone else who seems really important?
Being famous, gaining acknowledgment from both individuals and those high up in influence and power, earning prestige – it can all sound so enviable, right?
And yet it can all seem so unattainable as well – we often feel inadequate, or that we don't have the necessary connections to make those dreams possible.
Third Day's song "RockStar" (from their 2004 album Wire) is about just this topic, speaking of wanting to be a rock star, but not having "what is takes."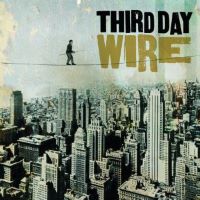 The speaker shares that he thinks about all the visible perks that rock stars seem to have and wishes he could have them too, but that he feels that he lacks both the necessary personal requirements (looks, determination, etc.) and the outside connections and conditions conducive to that kind of success.
(I say "speaker" here instead of "singer" because, in this case, the singer actually is what most people would consider a "rock star.")
Though I don't personally share the same interest in all of the "perks" that the speaker finds attractive (I don't desire to fly to Vegas any time soon), I can certainly relate to several of them. I particularly relate to the desire to be "someone" – somebody that a lot of people perceive as special or important.
Towards the end of the song, the bridge takes on a new perspective when the speaker says that on his own he may have "nothing, But to you I'm something, Something so much more."
It is not specified who "you" is here; it could be anyone – the speaker's spouse, parent, child, student, etc. It is crucial to remember that we play an important role in the lives of those we live with and come into contact with. We do have great influence, regardless of if that influence is obvious to the world at large or reflected on Top 10 charts. We must therefore acknowledge this power of influence and take it very seriously.
But while I do think it is important to recognize that the "you" here who sees us as special and valued can be anyone, I think it is even more important to realize that the "you" is God. For me, God is the Person Who comes to mind when I hear the bridge of this song.
God is the One Who created us, and He created each of us for a special purpose. He never belittles us, and any inadequacies we may have He is more than able to make up for so that we can complete the mission He gives us. We simply have to seek His will and yield to it.
Each of us is precious to God, regardless of if we are a famous rock star or an individual few people have ever heard of.
1 Peter 1:18-19 gives us a glimpse of how much value God has placed on each of us:
18For you know that it was not with perishable things such as silver or gold that you were redeemed from the empty way of life handed down to you from your ancestors, 19but with the precious blood of Christ, a lamb without blemish or defect. (New International Version [NIV])
In Jeremiah 1:5, God informs Jeremiah that He established a purpose for him before he was even born:
"I knew you before I formed you in your mother's womb. Before you were born I set you apart and appointed you as my prophet to the nations." (New Living Translation)
And later in the book of Jeremiah, God confirms to the prophet that His plans for His people are good:
"For I know the plans I have for you," declares the Lord, "plans to prosper you and not to harm you, plans to give you hope and a future." (Jeremiah 29:11, NIV)
You don't have to be a rock star to be special. God loves you just the way He made you, and He has a wonderful plan for your life.
Seek Him – He will show you your purpose and how to fulfill it.
---
Do you like Third Day's song "RockStar"? Has God been speaking to you about how special you are to Him? Let me know!
("RockStar" is available for download in the US for both the original and live versions at ChristianBook.com. The entire Wire album download is available there as well.)
---
If you want to be notified when I post new content, subscribe here.
Signing off until next week –
Rocking for Jesus with you!
Amanda Renée