The song "Build Us Back" was released by the Newsboys in July of 2010 on their album Born Again. It is about hope for restoration in the face of devastation.
As it is one of the slower songs on the album, it wasn't one I paid very much attention to when I first bought the album – I tended to focus more on the faster, "rockier" songs.
(Although I must say that the song does build up [no pun intended] from somber to hopeful and encouraging throughout. Also, I do like many slower songs as well, as has been and will continue to be evidenced in my song reviews.)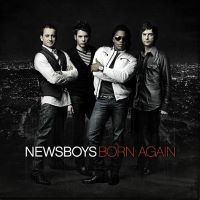 However, the song took on a new meaning after a 9.0 magnitude earthquake caused a devastating tsunami in Japan on March 11, 2011.
I remember hearing on the news of the horrific destruction in the wake of the tsunami. While listening to my Born Again album shortly afterwards, I was stunned to realize how perfectly the lyrics to "Build Us Back" related to the situation.
If you were hearing the song for the first time, it could have seemed that the song was written in response to the disaster instead of having been written months prior to it – it was extremely uncanny.
It speaks of the earth shaking, the destruction of city walls, physical injuries, and dashed hopes.
However, it goes on to encourage that when these things threaten to shatter us, we can trust that God will "build us back" from them.
It is evident that the lyrics are heavily based on the promises of God in Isaiah 54, several of which are found in verses 10–12:
10"Though the mountains be shaken and the hills be removed, yet my unfailing love for you will not be shaken, nor my covenant of peace be removed," says the Lord, who has compassion on you.

11"Afflicted city, lashed by storms and not comforted, I will rebuild you with stones of turquoise, your foundations with lapis lazuli.

12"I will make your battlements of rubies, your gates of sparkling jewels, and all your walls of precious stones." (New International Version)
Other verses that come to mind throughout the song include the following:
John 10:10

"The thief does not come except to steal, and to kill, and to destroy. I [Jesus] have come that they may have life, and that they may have it more abundantly." (New King James Version [NKJV])
Psalm 46:1–3

1God is our refuge and strength, A very present help in trouble.

2Therefore we will not fear, Even though the earth be removed, And though the mountains be carried into the midst of the sea;

3Though its waters roar and be troubled, Though the mountains shake with its swelling. (NKJV)
As the song mentions, God is our Redeemer and our Restorer. I find it extremely comforting that I can know beyond a shadow of a doubt – based on the promises in God's Word – that no matter what happens, we can trust God to be with us, to hold us close, and to "build us back" if necessary.
---
Have you experienced God's restoration power? I would love to hear your testimony! Or if you are currently in need of restoration, I would like to pray for you. Either way, feel free to contact me.
Also, let us all remember to keep others in prayer who are going through difficult or tragic circumstances. Whether we know their names and circumstances or not, God does know them.
---
("Build Us Back" is available for download in the US at ChristianBook.com, or you can download the whole Born Again album there as well.)
---
If you want to be notified when I post new content, subscribe here.
Signing off until next week –
Rocking for Jesus with you!
Amanda Renée