It is hard for me to believe that we are at the end of November and the beginning of December – where does the time go?
I have long been aware of the celebration of Advent, but I haven't had a strong understanding of it (for example, I hadn't realized that Advent already began this past Sunday). I decided to look into it a bit in preparation for today's post and found a very interesting article about it at Christianity.com.
I still may not understand every detail, but I learned a lot! My main takeaway is that the celebration of Advent is not only about remembering Christ's First Coming, but also about looking forward to His Second Coming.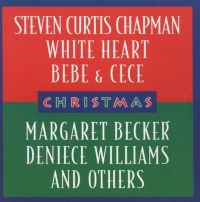 Since we are at the beginning of Advent, I thought I would post about one of my favorite Christmas songs, "O Come, O Come Emmanuel."
There are many beautiful versions of this song. To be honest, I think my all-time favorite version is the one sung by Lisa Vischer at the end of Veggie Tales' The Star of Christmas DVD. Perhaps I will review that one at another time – for now, I wanted to pick one that better fit my station (though I personally would consider Vischer's version to fit the rock style!)
Another version I really enjoy is by Margaret Becker.
It starts out sounding mysterious – eerie, even – then progressively builds up to a powerfully triumphant tone before winding back down again.
I find it an immensely satisfying build-up with awesome keyboards and guitars throughout (and just the right amount of drums).
The only thing I don't like is the lack of (what I consider) a proper pause between the halves of the chorus. I find it mildly irritating, but my enjoyment of the song as a whole makes up for it.
Yesterday I discovered that several members of White Heart's band had roles in the production, arrangement, and/or performance of the song.
Well, well – no wonder I like it so much! Knowing that now, I can definitely hear the White Heart influence in it.
Have you heard Margaret Becker's "O Come, O Come Emmanuel"? What do you think of it? Let me know!
(The song is available for download at ChristianBook.com and other places as well.)
---
If you want to be notified when I post new content, subscribe here.
Signing off until next week –
Rocking for Jesus with you!
Amanda Renée