I have to take a little break today from my established genre(s) for my station, because the album I want to review today is not rock, alternative, or contemporary Christian, it's technically … country.
(Personally, I would label it country rock, but … apparently I'm not familiar with the genre.)
The album is Christmas by the Oak Ridge Boys, and I think it might be my all-time favorite Christmas album.
I grew up listening to it as a kid – we had a cassette tape with The Oak Ridge Boys Christmas album on one side and The Statler Brothers Christmas Card album on the other. (I liked the Statler Brothers album also, but the Oak Ridge Boys album was my favorite.) We would play the cassette repeatedly at Christmas time in the car while running errands.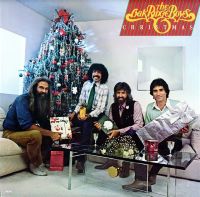 Then on Christmas Day, we would pull out the record and play "Jesus Is Born Today (It Is His Birthday)." It's a tradition for me – if I don't hear that song on Christmas morning, I feel like something is missing.
I like the album so much that I purchased my own on CD (which I have currently misplaced – argh!).
As a bit of side trivia, The Oak Ridge Boys used to do a live Christmas show every year at a local venue – until the venue closed down. I remember being disappointed that I wouldn't ever get to see them perform there.
Here is the song list (with my personal comments):
"Jesus Is Born Today (It Is His Birthday)": This one is probably my favorite. As I mentioned, it's the perfect way to start Christmas morning – focusing on Jesus, the True Reason for the season. (Not to mention it has awesome keyboards, guitars, drums, horns, etc.!)
"Christmas Is Paintin' the Town": I always loved hearing the kids join in for this one, singing "Sidewalk Santa…" and "La la la la…" – gotta love hearing kids' voices singing along!
"Christmas Carol": Another favorite – a special story within a song.
"Silver Bells": A beautiful rendition.
"Santa's Song": While I prefer to focus on Jesus rather than Santa, this is a fun, catchy song – and after looking at the Oak Ridge Boys' discography, I finally understand why the singer was looking for Bobbie Sue at the end!
"White Christmas": Another beautiful rendition.
"Happy Christmas Eve": My favorite Christmas Eve song (are there any others?) – sweet and romantic.
"Thank God for Kids" (Eddy Raven): A touching song about how much life kids bring to a home and to the world in general. (This one made it to number three on the Hot Country Songs chart back in 1982 when the album was released.)
"Silent Night": Yet another beautiful rendition, with a reading from Luke 2 towards the end.
"Little One": A sweet song that starts out observing a child's Christmas wonder, then brings us to that first Christmas with baby Jesus.
"Mary Christmas": Another love song – this one with lots of rocking guitars, drums, and keyboards. I've always loved this one, too!
"Oh Holy Night": A final beautiful rendition. I love hearing the bass voice start out the verses.
I'd love to know if you've listened to this album, too!
Do you tend to stick with one favorite genre for Christmas music, or do you like a variety? Let me know! I tend to prefer traditional styles myself overall, but I also like other styles like rock – and apparently country – if they are done right.
This one was done right!
---
If you want to be notified when I post new content, subscribe here.
Signing off until next week –
Rocking for Jesus with you!
Amanda Renée
P.S. Wishing you a very Merry Christmas!