I have a lot of Christmas albums in my personal collection that I consider favorites.
One of them is Christmastime by Michael W. Smith – it definitely makes the list of "Albums That Must Be Played At Christmastime"!
We used to play this album (on repeat, if I remember correctly) while setting up the tree and our other Christmas decorations, so when I hear it, it always brings back warm memories.
Considering that, I find it very appropriately titled – the feel of the entire album from beginning to end joyously proclaims, "It's Christmastime!" And I absolutely love that feeling!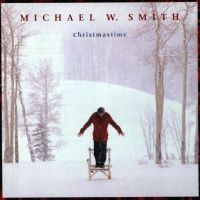 Christmastime has a good mix of calm, appropriately reverent songs and spunky, upbeat songs. I could start naming off things I like about different songs, but I think it best to save that for individual song reviews.
I will say, however, that Michael's medleys are awesome – one of which contains his song "Emmanuel," which is a very powerful song (and so far I like his arrangement of it best out of the arrangements I have heard). Incidentally, I really enjoy Michael W. Smith's arrangements of many songs, Christmas-related and otherwise.
Here is the song title list for Christmastime:
The Happiest Christmas
Kay Thompson's Jingle Bells
Christmastime
Welcome To Our World
Hope Of Israel
(Medley) Sing We Now Of Christmas/O Come O Come Emmanuel/Emmanuel
O Christmas Tree
Christmas Waltz
We Three Kings
(Medley) Away In A Manger/Child in the Manger
Carols Sing
(Medley) I Saw Three Ships/Joy to the World
Have you heard Michael W. Smith's album Christmastime? What do you think of it? Let me know!
(The album is available for purchase at ChristianBook.com and other places as well.)
---
If you want to be notified when I post new content, subscribe here.
Signing off until next week –
Rocking for Jesus with you!
Amanda Renée