Memories
Ah, it's time to talk about another album that takes me back in time to good memories.
Change Your World was released by Michael W. Smith in 1992. I remember listening to it in the car for various car trips.
(I am so glad we had cassette and CD players in vehicles when I was growing up! I have so many good music memories from riding in the car as a kid.)
When I hear some of the songs on it today, they still bring back the feelings that I felt when I heard them so long ago.
Fun Fact: When I originally tried to purchase this album through a marketplace, I accidentally ordered the single "Picture Perfect" instead of the full album.
Fortunately for me, I was able to return it for a full refund because it stated clearly on the back that it was not an item to be sold. I learned to pay more attention to my purchase titles after that!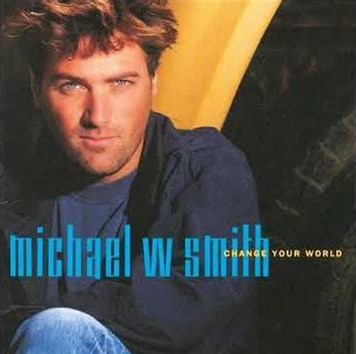 About the Album
Change Your World has a lot of awesome songs on it (though, surprisingly, none of them are titled "Change Your World").
You may recall that back in April, I reviewed the song "Cross of Gold" (one of my absolute favorite songs from this album).
Other favorites include "Picture Perfect," "Color Blind," "Out of This World," and "Give It Away."
Not to mention that it includes Smith's famous song "Friends," along with other great songs as well.
Music Style
Change Your World has a nice mix of energetic, "makes you want to dance" songs and "slow and sweet" songs.
I tend to favor electric guitars and drums in music, but I find piano pretty as well (as long as it isn't overdone – that can get boring). And keyboards are a world of their own in the variety of sounds they offer. I love when an album has a perfect balance among the various instruments used on it.
Smith is an excellent piano and keyboard player, and this album had a great team of guitar and additional keyboard players as well.
The music production team did a beautiful job of "marrying" the piano/keyboards, guitars, and drums into a perfect mix.
A few of the songs also have some input and vocals from Toby McKeehan and the other members of DC Talk. This initially surprised me, but now that I know, I can definitely hear the influence – fun and funky.
Here is the track listing for the album:
Picture Perfect

Love One Another

I Will Be Here for You

Color Blind

Somewhere Somehow

Cross of Gold

Out of This World

Somebody Love Me

Give It Away

I Wanna Tell the World

Friends
All in all, Change Your World is full of great music and great nostalgia.
I give it 4 glowing stars.
---
Prayer Focus
Darlene Zschech (Birthday: September 8, 1965)

Crystal Lewis (Birthday: September 11, 1969)

Mark Schultz (Birthday: September 16, 1970)

Will Smith (Birthday: September 25, 1968)
Please pray for these bands and individuals as God leads you.
(I also have a basic guideline here if you wish to refer to it.)
Station Support
In addition to praying for the weekly Prayer Focus, please pray for God to guide me and give me wisdom as I make decisions for the radio station and for the website. I really appreciate your prayer support!
If you feel that the Lord is leading you to support Rocking for Jesus financially as well, you can do so by clicking here or by clicking on the "Give" tab in the website menu.
---
Contact
What do you think of Change Your World? What is your favorite song form the album? Let me know!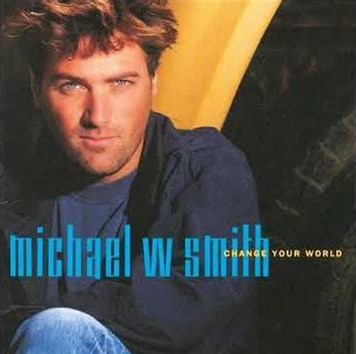 Links
Downloads and/or physical copies may also be available worldwide from your favorite online music store, at your local bookstore or thrift shop, or through your favorite online marketplace.
---
Check It Out!
If you need to reserve a website name, or if you need a company to host your website, I encourage you to check out my affiliate partner, OrangeWebsite.
I use them for my domain names and my website hosting services.
They have great customer service, and they place a very high value on freedom of speech, which is why I chose them.
Click here to see more about why I like them and to access my affiliate links to their services.
(Check out the Privacy Policy and the Disclaimer for more information about affiliate, recommended, and other external links on the Rocking for Jesus website.)
---
Closing Note
If you want to be notified when I post new content, subscribe here.
Signing off until next week –
Rocking for Jesus with you!
Amanda Renée
---
Credits
Sites I used for musicians' birthdays:
https://preferredwriters-helpdesk.blogspot.com/2014/02/birthdays-of-christian-artists-month-by.html (Unfortunately, the links to full lists do not work on this site.)