About the Song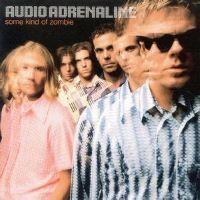 During the month of October, some tend to focus on all things dark and spooky. I don't, but I thought looking at a song about zombies might be timely.
"Some Kind of Zombie" is the title track from Audio Adrenaline's 1997 album. It continues the theme from last week about victory over temptation.
This song has a great balance of musical instruments – electric guitar, drums, acoustic guitar, keyboards, strings, bells (probably synthesizer bells) – moving smoothly between energetic and calm.
The speaker reflects on his past, expressing gratitude to God for delivering him from his previous mindset, which had been inclined toward evil.
In the channel (the pre-pre-chorus, I guess?), pre-chorus and the bridge, he is aware that external forces are coming at him from every side, trying to pull him back into sin.
However, he keeps his focus straight ahead and continues to walk forward in God's way, knowing that he has died to sin. It no longer has any power over him. He has become a "zombie" – a walking dead person.
(I enjoy the musical style of these sections – it is easy to picture someone marching resolutely forward. The robotic monotone in the chorus adds to the illustration that this person is unaffected by worldly influences.)
In the final verse, the speaker declares himself a "slave" to God's Word.
"Some Kind of Zombie" is a powerful song that gets 5 stars.
Spiritual Application
I find the comparison of zombies and Christians thought-provoking.
Let's ignore the typically addressed "brain-eating" aspect and just look at the basic nature of a zombie – a walking dead person operating under the power of someone or something else. He is difficult to overpower, because he's – you know – dead.
Several Scriptures comment on how as Christians we are dead but alive, and through Jesus we have access to the power of God.
For example, Galatians 2:20 states:
I have been crucified with Christ and I no longer live, but Christ lives in me. The life I now live in the body, I live by faith in the Son of God, who loved me and gave himself for me.

(New International Version [NIV])
Romans 6 goes into even greater detail about how we are dead to sin and therefore free to walk in complete obedience to God:
11So you also should consider yourselves to be dead to the power of sin and alive to God through Christ Jesus.

12Do not let sin control the way you live; do not give in to sinful desires. 13Do not let any part of your body become an instrument of evil to serve sin. Instead, give yourselves completely to God, for you were dead, but now you have new life. So use your whole body as an instrument to do what is right for the glory of God.

(Romans 6:11–13, New Living Translation [NLT])
Later in the passage, Romans 6 addresses the "slave of God" concept touched on in the Audio Adrenaline song:
16Don't you realize that you become the slave of whatever you choose to obey? You can be a slave to sin, which leads to death, or you can choose to obey God, which leads to righteous living. 17Thank God! Once you were slaves of sin, but now you wholeheartedly obey this teaching we have given you. 18Now you are free from your slavery to sin, and you have become slaves to righteous living….

22[N]ow you are free from the power of sin and have become slaves of God.

(Romans 6:16–18, 22a; NLT)
Paul comments in verse 19 that he is using the term "slave" in order to give his readers a visual example of what he is trying to tell them.
Before accepting Jesus, we were controlled by our sinful natures. Now, we can choose to be controlled instead by the Holy Spirit's leading (Romans 8:1–14).
Audio Adrenaline's lead vocalist, Mark Stuart, is quoted on Jesus Freak Hideout's website as saying that "'Some Kind of Zombie'… [is] a parallel of how we are raised from the dead and then we have this supernatural strength and we can't be beaten" ("Some Kind of Zombie" lyrics page).
As I mentioned last week, God has promised to always provide a way of escape from temptation (1 Corinthians 10:13).
Indeed, we are assured that He will make us not just conquerors, but "more than conquerors" (Romans 8:37, NIV).
Are you ready to join the "walking dead" today? Let's choose to walk freely in the victorious life Jesus paid a heavy price for, and let's leave sin in the dust.
---
Prayer Focus
Audio Adrenaline's Some Kind of Zombie lineup:
Mark Stuart – lead vocals

Will McGinniss – bass, vocals, yak back

Bob Herdman – guitar, keyboards, vocals

Ben Cissell – drums, percussion

Tyler Burkum – guitars, vocals
Please pray for these bands and individuals as God leads you.
(I also have a basic guideline here if you wish to refer to it.)
Station Support
In addition to praying for the weekly Prayer Focus, please pray for God to guide me and give me wisdom as I make decisions for the radio station and for the website. I really appreciate your prayer support!
If you feel that the Lord is leading you to support Rocking for Jesus financially as well, you can do so by clicking here or by clicking on the "Give" tab in the website menu.
---
Contact
What do you think of this song? What other Scriptures are about being dead to sin and alive to victory? Let me know!
---
Links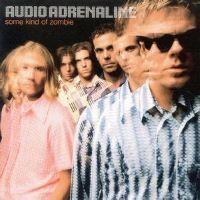 Downloads and/or physical copies may also be available worldwide from your favorite online music store, at your local bookstore or thrift shop, or through your favorite online marketplace.
---
Check It Out!
Did you notice the new radio player here in this post and on the home page?
I have gone back and forth with how I wanted my radio player to appear on the website.
I originally placed it within an image of my logo because:
It was small (good for mobile screens), and

I could make it automatically pop out in a new tab (avoiding any issues with the music stopping when a viewer clicks on a link or leaves the site).
However, I have not had time to place a "play" button on the player, resulting in it being almost hidden. (Creating a play button is a little more difficult than expected!)
I finally decided that it couldn't hurt to embed one of the perfectly good radio players available to me through Live365.
I recommend enabling the pop-out player: Click on the symbol of a square box with an arrow pointing up and to the right. The player will open in a new window, allowing you to press play and then browse the internet to your heart's content without stopping the music.
You can, of course, simply click directly on the play button on this page – just know that in that case, the music will stop playing when you leave this page.
What do you think? How do you like the new layout? Is is it easier to use? Were you even aware that a radio player was available here on the site?
(Have I been making sense here? I hope so!)
---
Closing Note
If you want to be notified when I post new content, subscribe here.
Signing off until next week –
Rocking for Jesus with you!
Amanda Renée