Holiday Greetings
I hope you had a happy, safe, and healthy Labor Day weekend.
Personally, I have always considered the holiday mistitled – "Labor Day" to me sounds like a day to labor, not a federal holiday to take the day off of work.
(Plus, a couple of the jobs I have worked in the past required me to work the federal holiday … so it ended up being a "Day of Labor" for me and my coworkers. At least the full-timers got time-and-a half, though.)
Currently my job gives the employees the day off (bonus), but also offers us hourly pay if we help out with their float entered in the local parade (double bonus!).
I helped out this year, and it was fun. (It was crazy hot, out, though!)
Anyway, the labor union aspect of Labor Day (a topic for another day) got me thinking about a DeGarmo & Key song for this week's review.
About the Song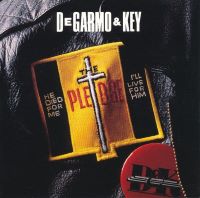 "Boycott Hell" was released in 1989 on DeGarmo & Key's album The Pledge.
I love the music of the song. You can tell from the guitar intro that an awesome rock buildup is just waiting to cut loose. It has great guitars, great drums, and a cool guitar solo.
But it doesn't just have great music – it has great lyrics, too. (And if you read last week's post, you know that this is critical.)
To be honest, I never though too terribly deeply into the lyrics of the song – I loved the music and I got the general idea of the lyrics, but that was about it.
But today as I was thinking about the song, it started to make more sense to me. I guess some of the recent boycotts had an impact on my understanding of this song's intent.
What happens in a boycott? People decide to stop purchasing from or supporting a company for various reasons – poor values, poor working conditions, poor decisions, etc.
Additionally, they try to inform others of the poor practices of the company in an effort to enlighten them and to discourage them from supporting the company also.
Sometimes they form picket lines to hinder people from entering such businesses. Though picketers are not generally allowed to completely block access to the business, they do their best to slow people down – those people then make a conscious (and, ideally, an informed) decision about whether or not to continue to their originally intended destination.
Some people start boycotts for legitimate reasons, while others just like to stir up trouble, but the process in either case is usually similar.
The chorus of "Boycott Hell" uses this imagery to get to point of the song across – Christians are encouraged to "form a holy picket line" to prevent their neighbors from entering hell.
Though the Newsboys poked fun at some of the wording in their 1992 cover of this song (which irritated me, despite my love for the Newsboys), I personally like the way DeGarmo & Key present their message.
Boycotts are not passive – they are active. They are not typically silent – they are usually vocal. And they are not begun or continued by apathetic individuals – they are defined by people who are passionate about their cause.
The verses of "Boycott Hell" remind us that God has given us not only a mission to reach those who don't know Christ, but also the tools and abilities to accomplish that mission.
The song continues by admonishing believers to cast away the "foolish pride" that results in needless divisions among them – instead, we need to join together to "change the world forever."
Scriptural Foundation
The lyrics sheet for The Pledge lists the following Scriptures as the foundation for "Boycott Hell":
1 Peter 4: 7–10 (a reminder of the urgency we must have due to living in the end times)

Ephesians 4:2–7 and 1 Corinthians 12:12–14 (a call to unity in body of Christ)

Matthew 28:19–20 (a call to reach those who do not know Jesus as Savior – aka evangelize)

Ephesians 6:10–13 (a reminder of who our real enemy is [satan] and a call to put on the full armor of God)

Revelation 20:14–15 and 21:1–4 (a contrast between heaven and hell)
Another verse that comes to my mind when the song encourages believers to "unionize" is Luke 10:2. Here, Jesus is instructing His disciples just before sending them out to prepare the people in the towns to which He was headed:
And he said to them, "The harvest is plentiful, but the laborers are few. Therefore pray earnestly to the Lord of the harvest to send out laborers into his harvest.

(Luke 10:2, English Standard Version [ESV])
On a playful note of a serious topic, it sounds like maybe Jesus did have a plan for a "spiritual labor union." (Hey, Newsboys … )
Call to Action
I confess that evangelism is not one of my strong points – at least not the kind of evangelism that I am familiar with. I don't really know how to just walk up to someone and strike up a conversation about their spiritual destiny. (I've tried. It didn't usually go the way I hoped it would.)
But I do think that it is critical that our lives are a living testimony of Who Jesus is, and that we are able to answer people when they ask us about our opinions or about what makes us different from the world:
In the same way, let your light shine before others, so that they may see your good works and give glory to your Father who is in heaven.

(Matthew 5:16, ESV)
15But in your hearts revere Christ as Lord. Always be prepared to give an answer to everyone who asks you to give the reason for the hope that you have. But do this with gentleness and respect, 16keeping a clear conscience, so that those who speak maliciously against your good behavior in Christ may be ashamed of their slander.

(1 Peter 3:15–16, New International Version)
I would like to get a lot better at the "answering questions" part, myself. I don't want to miss an opportunity to speak the Truth to someone who is seeking it.
I believe that the only way to get better at that is to spend more time with God and in His Word. I believe that when we keep our relationship with Him strong and completely trust Him, He will give us the words to speak at just the right time – not only in times of persecution, but also in everyday circumstances (Mark 13:11, Luke 21:14–15).
This week, let's work on growing closer to God so that we can effectively minister to those whom God brings across our paths.
And let's team up together to boycott hell.
---
Prayer Focus
Eddie DeGarmo

The Key family (Dana Key passed away in 2010)

Al Jardine from the Beach Boys (Birthday: September 3, 1942)

Roger Waters from Pink Floyd (Birthday: September 6, 1943)
Please pray for these bands and individuals as God leads you.
(I also have a basic guideline here if you wish to refer to it.)
Station Support
In addition to praying for the weekly Prayer Focus, please pray for God to guide me and give me wisdom as I make decisions for the radio station and for the website. I really appreciate your prayer support!
If you feel that the Lord is leading you to support Rocking for Jesus financially as well, you can do so by clicking here or by clicking on the "Give" tab in the website menu.
---
Contact
What do you think of the song "Boycott Hell"? Let me know!
Links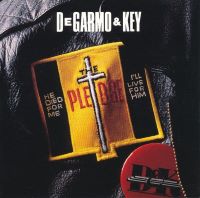 Downloads and/or physical copies may also be available worldwide from your favorite online music store, at your local bookstore or thrift shop, or through your favorite online marketplace.
---
Closing Note
If you want to be notified when I post new content, subscribe here.
Signing off until next week –
Rocking for Jesus with you!
Amanda Renée