Anniversary Album Release
Petra is celebrating their fiftieth anniversary!
To commemorate this milestone, on April 7, 2023, Girder Records released an album entitled Fifty (Anniversary Collection). The 3-disc album contains 50 songs selected by Petra's founder, Bob Hartman.
I recently purchased the Deluxe Edition (production limited to 1000 copies), which also includes 3 LTD collector's cards. (I also purchased a Fiftieth Anniversary T-shirt. Because I totally need another T-shirt…)
Seventy-five of the Deluxe Editions even contained an autographed trading card. (Mine didn't – bummer! Oh, well. Congrats to anyone who did get one!)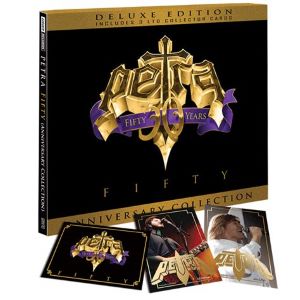 I am currently listening through the album and have heard discs 1 and 2 so far. I was pleasantly surprised that it contains at least a few songs that I didn't already own (I have a lot of Petra CDs). And I was surprised to discover that there is an earlier version of "God Gave Rock and Roll to You" that I had never heard before.
Actually, the album contains both versions of "God Gave Rock and Roll to You." While some may think that is redundant, I find it interesting to experience a bit of a "before and after" effect, and each version has its own unique qualities.
Even though there are no new additions, it is a great song lineup and contains a lot of my favorites.
Here is the lineup:
DISC ONE
Walkin' in the Light
Back Sliding Blues
God Gave Rock and Roll to You
Why Should the Father Bother?
Yahweh Love
Morning Star
Chameleon
Angel of Light
Without Him We Can Do Nothing
Praise Ye the Lord
Second Wind
Judas' Kiss
Road To Zion
All Over Me
More Power To Ya
DISC TWO
Not of This World
Bema Seat
Grave Robber
Not by Sight
Godpleaser
Beat the System
It Is Finished
Adonai
Hollow Eyes
God Gave Rock And Roll To You
Whole World
Thankful Heart
This Means War!
He Came, He Saw, He Conquered
All Fired Up
Mine Field
First Love
Counsel of the Holy
DISC THREE
I Love the Lord
Creed
Beyond Belief
Love
Seen And Not Heard
Prayer
I Am On The Rock
Sight Unseen
Dance
Midnight Oil
Just Reach Out
Enter In
No Doubt
Lord I Lift Your Name On High
Lovely Lord
We Need Jesus
Jekyll & Hyde
Autographed or not, I am happy with my purchase!
---
Contact
Can you believe that Petra is celebrating their fiftieth anniversary? What do you think of their song lineup for this anniversary album? I'd love to know!
Links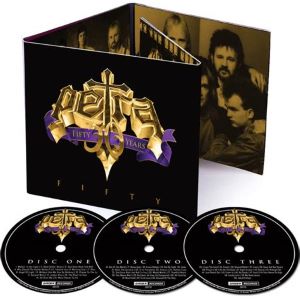 You can access Girder Music's Petra Collection here: https://girdermusic.com/collections/petra.
As of this posting, both the Standard and Deluxe Editions of Fifty (Anniversary Collection) are available.
(Since availability of items varies at Girder Music as items sell out, I have linked to the Petra collection instead of to specific albums.)
---
Closing Note
If you want to be notified when I post new content, subscribe here.
Signing off until next week –
Rocking for Jesus with you!
Amanda Renée